Paving Contractor specialising in Driveways Across County Dublin
At The Paving People, we are contractors who take great pride in everything that we do and that is why we can offer a wide range of services including Brick Paving services, Paving Tarmac, Patio Installation, Gravel Driveways and Landscaping across Dublin. Every aspect of our service is designed around the specific needs of our clients. So, if you are looking for driveways and patios or want to alter the external appearance of your property. Contact us today as a company known for professional paving in Dublin. Please read our customer reviews at the bottom of the page.
Gallery
Contractor specialising in Patios and Landscaping in Dublin
For over 15 years we have been assisting the people of Dublin with excellent quality patios, garden landscaping and garden paving finishes. Our complete service takes care of every project from start to finish. We work closely with clients to determine their needs, we then create a detailed plan of the work as well as a work schedule and deliver it within that time frame. Our service is everything that our clients expect and more because we know what it takes to deliver complete satisfaction.
Please view our gallery for examples of our work, or contact us directly to discuss your own ideas. No matter the size or layout our aim is to work with you to create a space that works for you and your needs. Call us today for your free consultation to discuss your requirements.
Patios Dublin Gallery
Brick Pavers Specialist
Our brick paving service can provide your home with a top-quality surfacing solution that is not only functional but looks extremely attractive. If you are thinking about having your driveway re-laid or you want to add some character to an outdoor area, then block paving is a perfect choice.Our team is on hand to provide you with the advice and support you need to help you make an informed decision. There are many different options available to choose from and so, we are with you from this initial concept phase right through to the installation phase and beyond. We take great pride and care in installing brick paving because we understand that it must be carried out correctly. Therefore, the preparation is key to ensuring a successful project every time.
So, whether you are looking for something simple or something more unique that fits in with your property, we have a wide range of paving options available for you to choose from for driveways and patios.
Gallery
Patio Installation
Making the most of any outdoor area is simple when you choose our patio installation service. If you live in Dublin and your patio needs replacing or if you want to simply transform that secluded corner of your garden into a usable, smart and attractive area then we have the perfect paving service for you. We can offer every type of patio paving option available to you and that means that we can install patios that incorporate intricate designs or just simple designs that are suitable for those less-used areas.
Whatever your requirements, we can help you to transform your property in a simple and effective way. We take care of all preparation work and then we install the patio, ensuring that it will stand the test of time and continue to bring you joy year after year. The Paving People are your top choice for Patios Dublin.
Gallery
Gravel Driveways
A gravel driveway is a simple, yet effective alternative for your driveway. You might have a driveway that is cracked, worn looking and in need of attention, if so, then a gravel driveway is the perfect option. They are low maintenance and simple to install and so, your home can be transformed in almost an instance. Gravel driveways are no longer lacking in options because gravel comes in many different shapes, sizes and colours, enabling you to inject colour and life into the exterior of your home. Also, it perfect for merging with other paving stone or granite products.
As professional driveway contractors, we take care of the whole process and handle all aspects of ground preparation work and then ensure that the correct measures are put in place to ensure that your gravel driveway suits its desired purpose.
Low maintenance. Simple. Effective. A gravel driveway is a perfect choice for any home. Call us today for your free consultation to discuss your requirements and obtain professional advice from expert driveway contractors.
Gallery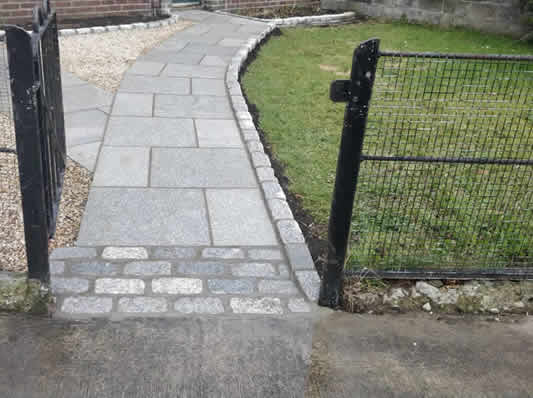 Hard & Soft Landscaping
If you are seeking a contractor that can take care of your landscaping needs, we can deliver a service that you can trust. Whether you are looking for hard or soft landscaping or even commercial landscaping, our team of experts have an eye for detail and the skills to be able to deliver a first-class job every time. We take the design aspect extremely seriously because we want to get it right and that ensures that your benefit from every aspect of our service.
For further information on our services or discuss your driveway and patio needs, why not contact us. We are always on hand to provide you with the friendly, professional service that so many have come to trust, and your free quotation. Call The Paving People today, top contractors Dublin.
Gallery